Using selective leaks spiced with speculation and technobabble, Turkey has presented a scenario in which the Washington Post columnist was lured into the Saudi consulate in Istanbul, murdered and perhaps even dismembered.
Turkish officials have shown video and audio evidence of this attack to Western intelligence agencies and their descriptions have been passed on by sources to CNN, among others.
Turkish media have suggested this evidence was obtained from
Khashoggi's Apple Watch
-- which is technically unlikely. This may be a smokescreen if, as some have speculated, the consulate was bugged by Turkish intelligence.
There have been lurid references to bone saws, dismemberment and nighttime burial on a far-flung coastline.
Inconsistencies inevitably leave room for reasonable doubt.
In diplomacy, doubt is good. It leaves room for backtracking and apology. An opportunity to say sorry, blush and move on.
The Saudi version leaves no room for error. It is being echoed from Riyadh to Abu Dhabi.
Khashoggi wasn't murdered, that version goes. Worse still, the whole saga has been made up by Saudi Arabia's rivals to stain the reputation of the kingdom.
A statement released through the state-run Saudi Press Agency quoted none other than Prince Abdulaziz bin Saud bin Naif bin Abdulaziz, the interior minister.
In the statement, he "affirmed the Kingdom of Saudi Arabia's condemnation and denunciation of the false accusations circulated in some media on the Saudi government and people against the background of the disappearance of the Saudi citizen Jamal Khashoggi." Reports circulating "about orders to kill him are lies and baseless allegations against the government of the Kingdom," the statement added.
United Arab Emirates Minister of State for Foreign Affairs Anwar Gargash, usually a man of considerable tact, had already joined the fray, tweeting grave threats.
"There is a need to show the reality of the human dimension of the situation as the repercussions of the political targeting of Saudi Arabia will be dire for those who fuel it."
Those who "fuel it" are, according to numerous columnists and commentators in Saudi-owned or -backed news organizations, the Muslim Brotherhood and Qatar, plus Turkey's government.
These are the groups, they say, behind what Prince Abdulaziz calls the "lies and baseless allegations."
"The Muslim Brotherhood, which was also drum-beating falsehoods related to Khashoggi's disappearance, was exposed when the Saudi journalist's family reaffirmed their confidence in the measures being taken by the Saudi government," trumpeted commentator Nader Al-Enizi on the Saudi-owned news site Al-Arabiya.
A lawyer for the Khashoggi family had earlier been quoted by Al-Arabiya as saying they had complete faith in the Saudi government's investigation of Khashoggi's disappearance.
Qatar is under a blockade by Saudi Arabia and the UAE for its alleged support of the Muslim Brotherhood, and for funding the Al Jazeera channels which the other Gulf states claim are mouthpieces for the Brotherhood.
Turkey supports Qatar and has ridiculed Saudi Arabia's claims to be a force of moderate Islam.
And so there is a standoff over the disappearance of Khashoggi -- not over details of the story, but over the entire narrative.
That, above all, is potentially dangerous for Saudi Arabia's Crown Prince Mohammed bin Salman. He's been the major power in the kingdom for more than two years.
If evidence is presented publicly that suggests Khashoggi met with a violent end, or was abducted by Saudi agents, the kingdom has no version of the story that could accommodate this.
Bin Salman is the author of an economic and social reform program that has seen women being allowed to drive and opening up Saudi Arabia to cinemas and other entertainment. He also ordered the incarceration of about 200 people, including
17 princes at the Ritz-Carlton in Riyadh
, during an "anti-corruption" drive for months.
They were released upon payment of over $100 billion in "settlements" earlier this year -- none were subjected to a formal judicial process.
Bin Salman has been seen as both visionary and volatile. And he no doubt has rivals within the country who believe they could do a better job. They might say, if he's stigmatized by what has happened to Khashoggi, that he should have taken the advice given to Alice by the Duchess in Wonderland: "And the moral of that is -- 'Be what you would seem to be.'"
"The timing couldn't have been worse," Butler told CNN on Saturday during an interview for his film "Hunter Killer." "We heard about Khashoggi going missing the day before we were supposed to leave, two days before, but the next day was when we had to go and it just didn't feel like a smart move. It felt very insensitive and it's something that we shouldn't really be getting involved with, so we thought we're going to stay away from that."
Khashoggi was last seen on surveillance footage entering the Saudi consulate in Istanbul on October 2. Saudi Arabia denies any involvement in Khashoggi's disappearance, claiming he left the consulate that afternoon. His fiancée, Hatice Cengiz, who was waiting outside the building, has said she did not see him re-emerge.
Turkey has called on Saudi officials to provide evidence that Khashoggi left the consulate.
Butler was originally scheduled to attend a screening of his film in the country's capital of Riyadh.
"It's a shame because I really wanted to go there, we all did," Butler said. "But it didn't feel like the right move to make."
Khashoggi, a former Saudi royal insider who became a critic of the country's government,
disappeared last week
after he went into the Saudi Arabian consulate in Istanbul, Turkey, to obtain paperwork to marry his Turkish fiancée.
Turkish authorities have said they believe Khashoggi, a columnist for The Washington Post, was killed inside the consulate, a startling allegation that is firmly denied by the Saudis.
The series of tweets that Trump Jr. retweeted Friday included a post by Patrick Poole, who according to his Twitter profile is a national security and terrorism correspondent for PJ Media, a conservative-leaning collaborative news and commentary blog formerly known as Pajamas Media.
In his tweet, Poole shared images of a decades-old newspaper article written by Khashoggi about the mujahedeen.
In a photo accompanying the article, Khashoggi, a prominent journalist in the Middle East, appears beside individuals identified as members of the Islamist group and holds a rocket-propelled grenade launcher. A separate photograph in the article pictures Osama bin Laden and some of his associates. Bin Laden cofounded al Qaeda in the late 1980s.
In the tweet, Poole wrote:
"I didn't realize until yesterday that Jamal Khashoggi was the author of this notorious 1988 Arab News article of him tooling around Afghanistan with Osama bin Laden and al-Qaeda co-founder Abdullah Azzam. He's just a democrat reformer journalist holding a RPG with jihadists."
Khashoggi covered al Qaeda as a foreign correspondent in Afghanistan and Sudan and was well known for his several interviews with Osama bin Laden. He distanced himself from bin Laden after the September 11, 2001, terrorist attacks. At the time of the news article posted by Poole, the United States was arming and funding the mujahedeen in the Soviet-Afghan War.
Sean Davis
, co-founder of The Federalist, retweeted Poole's post with a comment claiming Iranian influence over the news media's reporting on Khashoggi, implying an effort by Iran to damage US-Saudi relations. Iran and Saudi Arabia are longstanding rivals.
"Huh. It's almost like reality is quite different than the evidence-free narratives peddled by media with a long history of cooperating with or getting duped by Iran echo chamber architects," Davis wrote on Twitter.
Trump Jr. then retweeted Davis' comment.
The Trump Organization on Friday night did not immediately return CNN's request for comment on Trump Jr.'s Twitter post.
Trail of evidence
According to a US official familiar with the intelligence, the United States
has intercepts of Saudi officials discussing a plan to lure Khashoggi
back to Saudi Arabia and detain him, but it is unclear if the original plan was to murder Khashoggi or if something went wrong at the consulate and that he might have been killed during an attempt to kidnap him.
A US official familiar with the latest intelligence told CNN that the
"working assumption" in Washington
currently is that Jamal Khashoggi was murdered inside the consulate in Istanbul.
"We are pretty clear eyed it is likely to have happened, and it didn't end well," said the official, who also cautioned that this was the latest assessment and no conclusions had been made.
However, US officials have so far declined to endorse a Turkish assessment of Khashoggi's death, which includes -- according to Turkish claims --
audio and video recordings
from inside the consulate revealing Khashoggi was killed.
Although the Saudis have issued a broad denial of responsibility, they have not offered concrete evidence to prove Khashoggi walked out of their consulate or is still alive.
US response
On Friday, Trump vowed to raise the matter with Saudi King Salman and claims that answers will come "sooner than people think," but senior administration officials described a process that could take weeks, if not months, to determine what precisely happened to Khashoggi and develop a US response if it is determined he was killed on orders from the Saudi government.
Trump has made clear that his administration will not make human rights overseas a priority; he and especially his son-in-law and senior adviser, Jared Kushner, maintain close ties to the crown prince; and Trump has long had business ties to Saudi Arabia, where he made his first foreign trip as President.
In addition, Trump has established a trio of goals in the Middle East that depend on Saudi Arabia's rulers and their money. The kingdom is central to the Trump administration's goals on Middle East peace, its effort to fight ISIS in Syria and elsewhere, and its foreign policy priority of countering Iran.
That combination of factors explains low-key US responses following aggressive Saudi foreign policy moves and the muted response to Khashoggi's suspected assassination. They also create a dilemma for the White House, as lawmakers moved Wednesday to force a showdown over US values in foreign policy by triggering a human rights probe that could lead to sanctions.
"There are other ways of punishing, to use a word that's pretty harsh but it's true," he said, adding later, "We're going to get to the bottom of it and there will be severe punishment."
CNN's Kevin Liptak, Bard Wilkinson, Nic Robertson and Laura Smith-Spark contributed to this report.
Police responded to reports of a shooting at a 1-year-old's party in Taft on Saturday, said Sgt. Nathan Brandley of the Texas Department of Public Safety.
Police are looking for two suspects they believe were involved in the shooting, he added.
The injured man was airlifted to a hospital in Corpus Christi, Brandley said. Details about his condition were not immediately available.
Taft, a town of nearly 3,000 people, is about 12 miles north of Corpus Christi.
Well, at least Chris Redd's version of Kanye West.
"Thank you all for joining us today for this important discussion. It's in no way a publicity stunt," Baldwin's Trump said.
Redd's West said that he flew to the meeting using the "power" of his "Make America Great Again" hat. He then went into a long speech about different dimensions and universes that quickly went off the rails.
"Oh, this guy might be cuckoo," Baldwin's Trump said. "I've been in rooms with Dennis Rodman and Kim Jong Un and they made a lot more sense than him."
Baldwin's Trump then started to think that West possibly reminded him of someone.
"He doesn't stop. He doesn't listen to anyone but himself. Who does he remind me of?" Trump's inner monologue asked. "Oh my god, he's black me!"
Thompson's Brown was also listening to West's talk and felt a little concerned for himself.
"Oh, my lord, what have I gotten myself into?" Thompson's Brown said. "I played football with a leather helmet and my brain is still working better than his."
Baldwin's Trump started to think that all of this could be good for him because Kanye made Supreme Court Justice Brett Kavanaugh "look calm and collected."
"So in conclusion, 13th Amendment, Chi-Raq, trap doors lead to the Unabomber, male energy, Trump is my dad, Hillary [Clinton]'s a woman and the media needs to start making this President look good," Redd's West said wrapping up his speech.
He then hugged Baldwin's Trump calling him "dad."
"I love you Kanye," Baldwin's Trump responded. "We have a lot more in common than people know. We're both geniuses, we're both married to beautiful women and we both definitely have been recorded saying the 'n-word.'"
The Turkish newspaper Sabah reported Saturday morning that Khashoggi turned on the recording function of his Apple Watch before walking into the Saudi consulate in Istanbul on October 2, and that audio clips of his "interrogation, torture and killing were audio recorded and sent to both his phone and to iCloud."
CNN could not independently verify the Sabah report and was seeking comment from both Saudi and Turkish officials. Saudi Arabia firmly denies any involvement in Khashoggi's disappearance and says he left the consulate that afternoon.
On Friday, a source familiar with the ongoing investigation told CNN Turkish authorities had audio and visual evidence that showed Khashoggi was killed in the Saudi consulate. It's unclear how they obtained that evidence though.
And claims the journalist's smartwatch was able to transmit audio of his alleged murder inside the consulate to his iPhone, which his fiancée was carrying outside the building, are unlikely.
What do we know about Khashoggi's Apple Watch?
Khashoggi's fiancée says he was wearing an Apple Watch when he entered the consulate on October 2, a friend of the journalist told CNN.
A picture of Khashoggi, a leading critic of the Saudi government, speaking at the Al Sharq Forum in May of this year clearly shows him wearing an Apple Watch with a red mark on the device, indicating it was a third generation model, which has the option of an LTE data connection.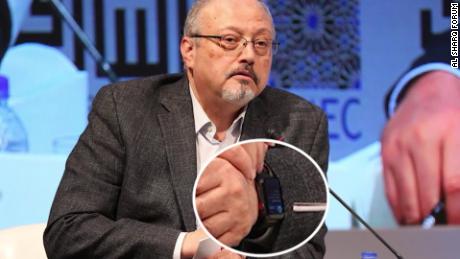 Jamal Khashoggi is pictured this year wearing Apple Watch.
But the
Apple website
indicates that a cellular connection is not available for its smartwatches in Turkey. And another page says it "isn't possible for Apple Watch to roam outside a user's carrier network coverage area." Tests carried out by CNN confirm that an Apple Watch with a data plan from another country will not work in Turkey.
If an Apple Watch is connected to an iPhone via Bluetooth or a previously joined Wi-Fi network, however, Apple's website indicates a user can still use "all the features of your Apple Watch, even if cellular isn't available." Among those features are
third-party apps
that can record audio from the Apple Watch.
This means that even without a data connection, if Khashoggi was indeed wearing his Apple Watch, it's theoretically possible he could have been transmitting audio back to his iPhone via Bluetooth (it would have been incredibly unwise for someone like Khashoggi in self-imposed exile from Saudi Arabia to log into to the Saudi consulate's Wi-Fi).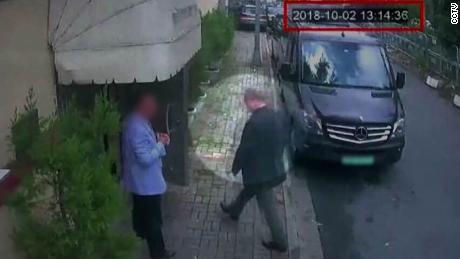 CCTV image of the missing Saudi Journalist Jamal Khashoggi entering the Saudi consulate on Tuesday Oct 2.
But security and technology experts say audio data is unlikely to have been able to travel via Bluetooth from his Apple Watch inside the Saudi consulate to his fiancée outside because that system of transmission only has a short range.
CNN intelligence and security analyst Robert Baer told Anderson Cooper 360 he believes any audio recordings from inside the consulate could only have come from equipment the Turkish government placed inside the building.
"I think what's happened, clearly, is the Turks have the Saudi consulate wired, they have transmitters," Baer said.
"The Turks don't trust any diplomats and they have been into most embassies and most consulates in Turkey and they listen to what's going on -- and if indeed there are tapes proving that he was murdered, I think that's probably how they know. But the Turks are very reluctant to admit that."
A former Turkish diplomat with knowledge of Turkey's security operations said he agreed with Baer. He said he'd be surprised if Turkey did not have recording equipment in the Saudi consulate and other critical embassies. "The Apple Watch is a silly distraction," he said.
How was the device unlocked?
A glaring inaccuracy in the Sabah report is that Khashoggi's assailants tried to unlock the Apple Watch with multiple password attempts, ultimately using his fingerprint to unlock the device.
The Apple Watch doesn't have the same "Touch ID" fingerprint technology as the iPhone and the iPad.
If the audio files of Khashoggi's ordeal were transmitted from the Apple Watch back to the phone, Turkish authorities would have needed access to his iCloud account. This in turn would entail knowing his passwords -- or expensive software that governments often purchase to circumnavigate Apple's security to break into the device.
Apple has not responded to multiple requests for comment about how the Apple Watch could play a role in the investigation and if any authorities have asked for the company's assistance in this case.
While there are inaccuracies in Sabah's report, wearable technology is now regularly used in criminal investigations. In one recent high-profile case,
Apple opposed a judge's order
to help the FBI break into an iPhone belonging to one of the San Bernardino, California, shooters saying it would threaten the security and privacy of its customers.
In the end, law enforcement officials were able to
break into the phone
used by Syed Farook with the help of an unnamed third party. Government officials did not go into detail about what was found on the phone.
Former Flying Eagles players, Anthony Okpotu and Moses Orkuma (both pictured above) have left Tunisian Ligue 1 club, US Monastir (USM) to join Qatar Stars League [Premier League] sides, Qatar SC and Umm Salal SC respectively, Completesports.com[1] reports.
Tunisian popular sports news channel, Ettachkila.com[2], earlier on Monday reported the serious negotiations going on between the officials of USM led by president, Ahmed Belli, and the representatives of the Qatari clubs for the transfer of Okpotu and Orkuma, then confirmed later on their official Twitter handle that they were done deals. And the deals will be announced by the clubs soon.
Okpotu, according to the report, is joining Qatar SC for a fee of around $1.2million while Orkuma transfer fee will cost Umm Salal Sc about $500,000.
Okpotu and Orkuma, both former Flying Eagles midfielder and striker respectively, helped USM to win the 2019/2020 Tunisian Cup and finished third in the Tunisian Ligue 1.
Okpotu played for Moroccan club, Difaa El Jadida, last year on loan from Albanian side, KF Laci, before US Monastir signed him. Orkuma arrived the Tunisian club as a free agent after a stint at another Tunisian side, Stade Gabesien.
Also Read: INTERVIEW – Dosu: Why It Won't Matter Much If Eagles Beat Tunisia 10-0 In Austria Friendly[3]
Okpotu scored 13 Goals in 25 games to finish as the top scorer of the 2019/20 Tunisian Ligue 1. He was the top scorer in the 2016/2017 Nigeria Professional Football League (NPFL) while starring for Lobi Stars.
Qatar SC finished eighth in the 2019/2020 Qatar Stars League, but are expected to be among the title contenders in the domestic competition after strengthening their squad with proven regular goal scorer, Okpotu.
Umm Salal Sc head coach, Aziz Ben Askar, hopes to bolster his team with the arrival of Orkuma for next season after finishing in a dismal 10th position in the 12-team Qatar Stars League in the 2019/2020 campaign.
Copyright © 2020 Completesports.com All rights reserved. The information contained in Completesports.com may not be published, broadcast, rewritten, or redistributed without the prior written authority of Completesports.com.
Read more https://www.completesports.com/ex-flying-eagles-stars-okpotu-orkuma-join-qatar-sc-umm-salal-sc-from-us-monastir/
Italy and AS Roma legend Francesco Totti has sadly lost his father, Enzo, after he died of coronavirus.
Enzo Totti died aged 76 on Monday morning at Lazzaro Spallanzani Hospital in Rome.
Also Read: Ex-Bayern Coach, Magath: Messi Helped Barca Win UCL Not Guardiola Tactics[1]
He leaves behind his wife, Fiorella, and their two sons Riccardo and Francesco as well as grandchildren Chanel, Cristian and Isabel.
Following the tragic news, Roma tweeted their condolences.
"Hi Enzo. Our hug goes to Fiorella, Francesco, Riccardo and the whole family."
Fans also took to social media to send their condolences to the 2006 Italy World Cup winner and his family.
"Heartfelt and sincere condolences to the whole Totti family," wrote one user, while another put "Dad will live forever in your heart and in the heart of those who loved him, heartfelt condolences @Totti."
Enzo was considered one of the most vulnerable to Covid-19 having suffered a heart attack just a few years ago.
During Francesco's career, Enzo was a virtual ever-present at his matches – including travelling to away games. He would often turn up to his training sessions too.
Copyright © 2020 Completesports.com All rights reserved. The information contained in Completesports.com may not be published, broadcast, rewritten, or redistributed without the prior written authority of Completesports.com.
Read more https://www.completesports.com/roma-legend-tottis-father-enzo-dies-of-coronavirus/
Nigerian midfielder, Anthony Uzodimma has told Complete Sports that he could give up an arm to play for Chelsea Football Club of England.
He revealed this after scoring his first ever professional goal in Turkey. He won the man of the match award after scoring the winning goal for Giresunspor in a 2-1 injury time win over Boluspur in a Turkish 1st Lig game before the international break.
On his feeling after scoring his first ever goal as a professional footballer, Uzodimma said: "The feeling was an amazing and crazy feeling, not only for me but for the whole team, coming from the bench to a game we were 1-0 down and kept on fighting to make it 1-1. And I scored my first professional goal and my first goal for my new team and the goal was in the 95th minute that brought victory to us. Seriously speaking, the feeling was such an amazing one for me, I must tell you that I was so excited and I give all glory to God Almighty.
After which the young player was then asked what his dream club is, the only club he could give up an arm to play for and to which he replied:"Chelsea has always been my dream club and even before I became a professional football player, I was a Chelsea fan. I hope and pray to play for Chelsea as a professional player one day. I will be very happy playing for my dream club and also, I can give up an arm playing for this honourable club, Chelsea," Uzodimma said.
Copyright © 2020 Completesports.com All rights reserved. The information contained in Completesports.com may not be published, broadcast, rewritten, or redistributed without the prior written authority of Completesports.com.
Read more https://www.completesports.com/uzodimma-i-could-give-up-an-arm-to-play-for-chelsea/
Former Bayern Munich coach Felix Magath has posited that Barcelona won two Champions Leagues under Pep Guardiola only because of Lionel Messi's brilliance.
Barcelona won their first treble of LaLiga, Copa del Reyand Champions League trophies in 2008-09 in Guardiola's first season in charge.
In 2011 they conquered Europe again beating Manchester United in the final, to mark one of the finest periods in the club's modern history.
Yet Guardiola, who left in 2012 after winning 14 major trophies, has been unable to win Europe's top trophy since.
He won three Bundesliga titles with Bayern but suffered three consecutive semi-final defeats in the Champions League, to Real Madrid, Barça and Atlético Madrid.
Similarly, he has enjoyed huge domestic success with Manchester City, winning two Premier League titles, one FA Cup and three EFL Carabao Cups, but he is yet to guide them beyond the quarter-finals in Europe.
And Magath who won the Champions League with Hamburg in 1983, has called Guardiola's possession-based system into question, suggesting it worked at Barça solely because of Messi, who can decide a game out of nowhere.
He told Sport Bild, "Messi won the title, not Guardiola. Without Messi, this system has never worked as successfully for Guardiola, otherwise he would have won the Champions League with Bayern or Manchester City long ago.
"Tiki-taka only works if you have players who are technically superior to their opponents. For the spectator, holding the ball, as I call it, is just boring and a top team doesn't really need it.
"In my opinion, Guardiola generally too often gets lost in trying to win a game in advance. That tactic often ends in wrong decisions, which prevent success."
City's Premier League title was wrestled away last season by Liverpool, who became champions of England for the first time in 30 years in manager Jürgen Klopp's fourth full season in charge.
Magath believes the Reds' success is more down to shrewd business in the transfer market than Klopp's system, however.
"Jürgen Klopp made the system a success primarily thanks to his decisions on personnel, not because of tactics," he said.
"If Liverpool hadn't reached into the coffers and bought goalkeeper Alisson for €60million and a defender in Virgil van Dijk for €85m, this system would also likely not have been successful. In the past, I'd have called it counter-attacking; today, it is called Gegenpressing."
Copyright © 2020 Completesports.com All rights reserved. The information contained in Completesports.com may not be published, broadcast, rewritten, or redistributed without the prior written authority of Completesports.com.
Read more https://www.completesports.com/ex-bayern-coach-magath-messi-helped-barca-win-ucl-not-guardiola-tactics/
Super Eagles head coach Gernot Rohr has challenged his players to step up their game following Friday's 1-0 loss to African champions Algeria, reports Completesports.com.[1]
Rohr admits the absence of a number of regular players hindered the team's performance, but has challenged the squad to up the ante and show vibrancy especially in the fore against the 2004 African champions.
"We definitely must put up a greater effort against the Tunisians. It is an opportunity for some of the players to rise up to the occasion, stake a claim. They are ready to go and I believe we would see a much better game on Tuesday," Rohr stated.

Read Also: Eagles To Undergo Covid-19 Test Today Ahead Friendly Clash With Tunisia[2]
Tunisia have not beaten Nigeria in a competitive game since the 2004 AFCON that they hosted, when they edged the Super Eagles on penalty shoot-out after both teams tied 1-1 in regulation and extra time at the Stade Olympique in Rades, outside Tunis.
Matches between Nigeria and Tunisia have always been supercharged, the 2004 encounter no less so. After Jay Jay Okocha gave Nigeria the lead from the spot, Tunisia restored parity with only eight minutes left, Khaled Badra also poking in from the spot.
Osaze Odemwingie missed during the shoot-out and the Eagles had to be content with the bronze medals after beating Mali. Tunisia went to defeat Morocco in the final for their only continental title so far.
Copyright © 2020 Completesports.com All rights reserved. The information contained in Completesports.com may not be published, broadcast, rewritten, or redistributed without the prior written authority of Completesports.com.
Read more https://www.completesports.com/rohr-charges-players-to-step-up-against-tunisia/
In this exclusive interview, former Nigeria goalkeeper, Joseph Dosu, fields questions from Complete Sports reporter, SULAIMAN ALAO, about Super Eagles' two international friendly games in Austria – the 1-0 defeat to the Desert Foxes of Algeria last Friday, and the upcoming clash with the Carthage Eagles of Tunisia on Tuesday.
The former Julius Berger (defunct) and Reggiana goalkeeper, and Atlanta' 96 Olympics gold medalist with Nigeria's Olympic Eagles, reiterates that he is more interested the positives from friendly matches that are more important than the results.
Excerpts…
Complete sports: The Super Eagles lost by a lone goal to Algeria in the first of their two October friendlies at the weekend. What is your take on the game?
Joseph Dosu: Firstly, it's good to have the Super Eagles assemble again after about a year now. I think the last time we saw the national team in action was incidentally during a set of friendlies around this time last year.
I think the Eagles had a good game, depending on what you were watching out for. For me, it was just a friendly game, and the purpose was to identify some new players towards build some continuity in the squad.
Some new players were invited and some did well and some didn't – it's all about plus and minus. For now, we should not castigate any of those players because they have all been doing well for their clubs week in, week out.
Also Read – Rohr's Tunisian Assistant, Trabelsi: 'We'll Beat Tunisia Again; I Want 2nd W/Cup With Nigeria'[1]
So if they couldn't make it in one game, that should not make them bad players because they still have another game to play. We should wait until after the second game before passing any judgement on the players.
Looking at that game, is it right to expect the Eagles to win knowing that the team was without some regular players. Does it mean expecting too much?
Dosu: Well, it depends on how the fans see it. Maybe they were expecting the Eagles to win and there is nothing really wrong in that.
But we also have too look at the circumstances surrounding the game as we didn't have quite a number of our regular players for the game. So I believe that was why the coaches invited many new players to see who among them that can fit into the main team.
Like I said earlier, it's about plus and minus for the new players invited. It's a situation whereby you do well, you stay and you don't do well, you 're out of the team. But there is still another game to go to further assess the players and the team generally.
It will not be right to judge a player just by one game, they should get another opportunity. The result is not really important
The Eagles conceded an early goal which was the only goal of the game. Would you say it is a weakness on the part of the team?
Dosu: I don't think the goal was planned by the Algerians. It was a corner kick with the ball lobbed into the air, then it fell on the ground and everybody was like looking for the ball and it was the player that saw it first that just kicked it into the net.
You shouldn't really blame anybody because it was a goalmouth scramble and such things happen all the time, not only to the Eagles, but to any team. Like I said, it was just a friendly match and either we conceded an early or concede late is not important.
What is important is who did well in the game – who can we keep and who can we say 'please, thank you for coming.'
Let's just look at the positive side – that even though we lost the game 1-0, there are one or two players that can be recalled into the team in the future.
Talking about the players that did well or not. Can you tell us the players that impressed you in the game?
Dosu: If I start to mention names, I don't know if it is the same names the coaches will pick. But I know that few of the players did well and some don't. It's the coaches' duty to identify who they want to bring into the main team later on.
And like I said earlier, you can't judge the players by just one game. There is another game to be played and the players might get another chance to show what they can do.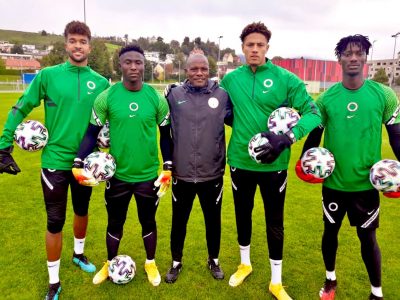 As a former Super Eagles goalkeeper, are you impressed with the goalkeeping department that feature new hands, especially with none of the regular goalkeepers around for the friendlies?
Dosu: Yes. I'm quite happy that we have lots of goalkeepers we can now call upon to play for the Eagles at any time. There is a competition in that department which is really good for the team.
The young keeper, Okoye Maduka, who kept the goal did well on some few occasions during the game. You can't blame him for the goal conceded. He was able to command the defence, he also did well cutting off the through passes across his goal, I think he did well generally and his grip was okay. He was called into action about two or three times and he did well on those occasions.
So Okoye for me, is okay and the guy is still very young at 23. And we still have the other keepers in camp – Dele Alampasu whom we know very well when he started out with the U-17 national team and the new one. I hope we can see them in action in the next game to be able to assess them too.
I think for the goalkeeping department, Nigerians can be happy that we now have good competition which is a very good development.
Going into the next game against Tunisia on Tuesday, what are you expecting and what area do you think the team need to improve upon?
Dosu: I'm not really expecting anything much, like I said earlier, these are friendly games and even if we go ahead to beat Tunisia 10-zero, it doesn't matter much.
The important thing is to try and identify some of the new players that can fit into the main team. For me, that should be the real essence of these friendly games especially as we don't have the full compliment of the team on ground.
The friendlies provide a good opportunity for the coach to fortify his team with other players so that the Eagles have a very strong starting eleven as well as a very strong bench. That I want to think is what the coach is also looking out for.
There is an influx of new set of players now tagged the 'foreign born' in the Eagles. Will you say it is a good development?
Dosu: Yes, it is a good development at the moment because our domestic league is not on. It was sad that the coaches can't even invite one or two players from the local league because the league is not on.
So the only option left for the coaches was to look for the players who are out there in Europe that can be invited into the national team. And if the players that were born in Europe are available, why not – they are Nigerians too.
However, they should be invited if they really want to play for us, not that we should be begging them to play for the country. If our league was on, I believe some home-based players would have been in the team.
So I think it is a good opportunity for the country to explore the talents born abroad for the benefit of the team. After the friendlies, the coaches should be in a good position to know those they would retain in the team as we look forward to the Nations Cup qualifiers and others.
Copyright © 2020 Completesports.com All rights reserved. The information contained in Completesports.com may not be published, broadcast, rewritten, or redistributed without the prior written authority of Completesports.com.
Read more https://www.completesports.com/interview-dosu-why-it-wont-matter-much-if-eagles-beat-tunisia-10-0-in-austria-friendly/